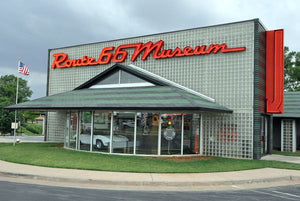 Motoring the Mother Road—Get your kicks on Route 66
Historic buildings are located all along Route 66 as it crosses America. Included are many museums celebrating the Mother Road's rich history. Two such sites are the Oklahoma Route 66 Museum in Clinton, west of Oklahoma City and the Seaba Station Motorcycle Museum in Warwick, just to the east of Oklahoma City, 120 miles apart.
The museum in Clinton is regarded as the ultimate Route 66 experience. Its galleries have been recently redesigned to offer a premier journey covering this revered section of tarmac.
Seaba Station began life as a gas station and machine shop. It has a great collections of bikes and memorabilia, sponsors several swap meets each year and recently hosted the Cross Country Chase, with more than 100 vintage motorcycles crossing America from east to the west coasts following Route 66.
MAD Maps produces many maps that cover various sections of Route 66 but the best way to experience the entire trip is with a copy of Rides of a Lifetime Historic Route 66 (ROL 66). This two-sided map spans the entire length of the Mother Road (more than 2400 miles) and also offers suggestions for eateries, roadside attractions and outdoor recreation. Click this link for all the details.
---