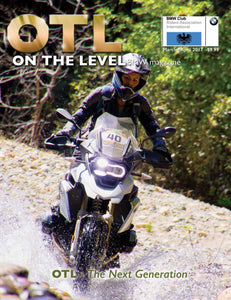 MAD Maps - ON THE LEVEL - BMW Magazine Feature Article in April/May 2017 Edition
Check out our feature article in the latest edition of the
BMW Rider's Magazine titled "ON THE LEVEL"!
We have a three page spread with an interview with our founder Jenny Lefferts!
By Miles Davis
Two wheel back roads touring – either solo or in small groups – has increased in popularity proportionate to America's swift urbanization. As city pressures rise and boil over, men and women motorcyclists find themselves escaping for a few precious hours of wind-in-the-face fun and country riding. Many of the adventurous routes explored by meditative riders have grown into carefully guarded personal secrets.

Enter Jenny Lefferts, who has been crazy about motor biking for decades. She's called, "Mad Jenny," because she's mad bout the ride, and also because she's mad about sharing cherished back roads secrets with her fellow crazy riders. To share her knowledge of the back road ride, Jenny founded Mad Maps, best motorcycle journeys in
America; rides that might rival the best of Europe.

MAD Maps is actually an acronym for Motor Adventure Destinations.

These are the maps that have a method to their MADness. Jenny's maps can be found online at www.madmaps.com. Yet when I came across the MAD Maps booth at Sonoma Raceway, my interest was piqued. So I called Jenny and one fine spring day soon thereafter we met to discuss her project of revealing essential rides.
"What do you ride?" She wanted to know. I pointed unapologetically to my stately old CB900C curbside. Without a word she slipped my keys from my hand, pressed the starter button, and –tucking herself in – sped off around the corner wearing sandals and no helmet. "Nice comfortable cruiser," she declared upon her return. Then, she began her
story of MAD Maps: "I inherited my love for the back roads from my father, a Canadian
professor of biology. He met Mom in Montreal, she was from Bermuda, and I appeared later in Ithaca where Dad was doing postgraduate research. With school out in the summers, he would pack the family into our VW Microbus and off we'd go exploring hidden North America. On one such trip when I was ten, we happened
to arrive at Mt. Rushmore during the time of the Sturgis Rally. I was quickly drawn to the mystique of the motorcycle. When we returned home, I discovered Pirsig's Zen and the Art of Motorcycle Maintenance. It occupied my nightstand for all the years I was growing up.

"My first motorized two wheeler was a 50cc Yamaha scooter, a plastic step-through that
sounded like a lawn mower. On it, I had the freedom of doing 50 mph, racing around San Francisco; even illegally crossing the Golden Gate Bridge several times. It wasn't long before I felt the need to upgrade to something really spectacular, so I bought an awesome 250cc Honda Rebel. That little machine helped me to discover the back roads
of California. On weekends I would buzz down Skyline Drive to Hwy 84 with a stop at Alice's Restaurant, never being intimidated by the bigger, showier bikes congregating there. The next day one would find me heading up to Guerneville for a swim at Johnson's Beach along the Russian River.

These early discoveries from so many years ago generated a desire in me to share the pleasures of the back roads with other riders. One of my favorite sayings is from Ursula K. LeGuin, It is good to have an end to journey toward, but it is the journey that matters in the end. I think this essentially underscores the difference between traveling by a motorized two-wheeler and by car.

"Twenty years ago I met my husband-to-be one night in the Haight Ashbury. On our first
date I wore red jeans, chaps and a white angora sweater. I sat him tightly behind me on my Sportster, while my girl friend packed his best friend on the back of her Harley. The day was spent riding to Monterey and back, stopping at several of the two-wheeler's popular Central Coast destinations. While steering the Sporty with my future
husband in tandem, his two arms clasped strongly around my waist, I learned the advantages that a motorcycle can offer a woman.

"We were married about a year later after a whirlwind romance. But I never gave him riding instructions, preferring for him to enroll himself into professionally run training classes. Instruction n the art of safe motorcycling is important, whether your riding is limited to running errands in town or spending solitary weeks on mountainous
back roads.

"These days with a national maps series covering the continental United States, I have
leaned that riders have a natural affinity for the scenic and less traveled road and this emphasis has been the key to MAD Maps success. Our scenic rides are created by a network of local scouts, who know the back roads like the back of their hand. MAD Maps has created a community of, riders, journalists and local enthusiasts. This community is the product: instead of relying on satellites in the sky, development depends on real
people on the ground."

For someone like me who believes that motorcycles are more than anything
else – a euphoric trip to Never Land that hovers somewhere between spirit and matter,
the concept of MAD Maps is indeed a welcome one. The summary of life's true successes are found in one's inner advancement towards transcendence. Perhaps it is
by removing ourselves from all too familiar surroundings that new places in the heart
are chanced upon. Sometimes the solitary back roads of the world and of life are essential elements in the quest of our own self-knowledge. The trip, the bike and the
map: this could be the start of a memorable journey.

The next day I filled up the old Honda's gas tank, stuffed a MAD Maps in to the tank bag
and set out to discover new places nearby that I thought I knew by heart.
—Miles Davis
BASIC COMPANY OVERVIEW:
Founded in 1999, MAD Maps, Inc.® is the premier creator and publisher of Scenic Road
Trip Content, with a comprehensive library of maps and digital spanning the continental United States.
If you are looking for the fastest way from A to B, forget it. MAD Maps is about finding the
most scenic routes with unusual and unique attractions. MAD Maps highlights the best stops along the way, offering customers a complete adventure from start to finish. MAD Maps' philosophy is "Life is a Journey. Enjoy every Mile."
With over a 1000 trips to choose from, your adventures
are limitless. DON'T GET LOST, GO MAD.
Or so the MAD Maps web site says. Planning a tour of the Pacific Coast? How about the Smoky Mountains, the Ozarks or practically anywhere else in the country? Then you need MAD Maps, a combination of conventional road maps with the know-how and where of expert motorcycle tour guides. If you're looking for the fastest way from A to B, these are not for you. MAD Maps is about finding the most scenic routes with
unusual and unique attractions along the way.
Over 60 maps, printed on water-and tear-resistant paper, have been produced to date and more are coming constantly. All regions across the United States are covered, there are over 1000 moto-friendly routes and 5,000 points of interest in total. These rides are created by a network of local scouts, each who knows the back roads like the back of their hand, all with an eye for the best roads and scenery.
These contributors are a community of riders, journalists and local enthusiasts, real people on the ground, and they're truly the product. Each detailed route is color coded and has easy-to-read road numbers, making it ideal for navigating from your tank bag. Each map is supplemented by route features, turn-by-turn directions, suggested stops and a helpful legend highlighting roadside attractions, parks and road-houses. You won't miss a thing on your way to getting the most out of each
area you ride.

MAD Maps, Inc. is located in San Francisco, CA. Tel (415) 221-1232.
www.madmaps.com
Company founder, Jenny Lefferts, has been a back roads enthusiast for years' although her passion began long before she was licensed to drive.; its origins can be traced directly back to her dad's road trip summer vacations in the '72 VW bus. Jenny
moved to San Francisco in 1987 and began searching the Bay Area for the best scenic roads: the seed for MAD Maps was planted.
MAD Maps is the recognized leader in their field, and considered by their customers as the "Go To" resource for expert scenic road trip content.
---