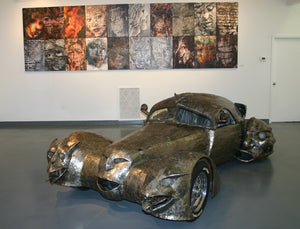 Houston Art Car Museum - Offbeat artistry in the Bayou City
By Robert Filla
We ride motorcycles for a myriad of reasons—the thrill of adventure, the sensory overload of light, sound, and scent. And then there is the simple display of disregard for the conventional. But when we do step off the bike for a bit of entertainment, that same desire to embrace a madcap alternative dismounts right alongside. And while an afternoon at the movies or a stroll down to the local arcade can provide a momentary, mind-numbing experience, MAD Maps is always in search of roadside attractions out of the norm. As part of that quest for the bizarre, we present the Houston Art Car Museum. 
Near the heart of downtown, surrounded by condos and high-end housing, sits a Houston landmark. A most unique institution lovingly referred to as the Garage Mahal is a private museum that has been around for more than 30 years since being founded in 1988 as a not-for-profit arts organization. The museum features a rotating collection of artfully crafted cars, low riders, and motorized contraptions that defy explanation and have to be seen. While the museum's emphasis is on art cars, it also serves as an active forum for local, national, and international artists and photographers who would normally receive little acknowledgment for their work. 
Constructed of scrap metal and chrome pieces by car artist David Best, the building's stainless steel exterior mirrors some strange Mad Max/Mos Eisley-like outpost complete with metallic spires and pinnacles. But the true treasure of the museum is housed within—a collection of autos adorned with ceramic tiles, sparkling jewels, plastic fruit, special effect lighting, dazzling paint, baby doll heads and PEZ dispensers (you never know what you might discover on display throughout the year). Houston is now considered the Art Car Capital of the world with more art cars than any other city. The highlight of all this mechanized creativity culminates with the legendary Art Car Parade (and the accompanying Art Car Ball with its typical zaniness) to be held in early April 2023. The parade is Houston's largest free, public event with more than 250 entries last year attracting 200-300 spectators. 
This eclectic collection of autos, artwork and photography is constantly rotated so check ahead on the museum's website to see what is on display at any given time. There is no admission fee but donations are greatly appreciated. The museum is currently requesting guests to call ahead of their visit and make an appointment. Parking is limited but seems there is always space for motorcycles. To assist your travels around the Big H, go to www.madmaps.com and grab a copy of our Get Outta Town Houston (GOT HOU). Along with a city map, this guide also contains half a dozen loops around the outlying areas designed with the motorcycle rider in mind ranging from the piney woods to the Gulf coast. Plus there are additional roadside attractions, roadhouses and eateries and a listing for visitor information.
Have Fun—Ride Safe—Keep It Weird.
Art Car Museum
140 Heights Blvd.
Houston, Texas 77007
713.861.5526
www.artcarmuseum.com
---