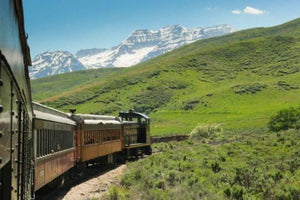 Heber Valley Historic Railroad - Utah
One of the most popular attractions in Heber Valley is the historic Heber Valley Railroad. The 16 miles of track between the valley and Vivian Park in Provo Canyon offer access to some of the most spectacular scenery in the state.
The scenic excursions range from one and a half hours round-trip, to three hours round-trip. Seasonal activity rides are also available. Heber Valley Railroad's popular excursions include Day Out With Thomas, Haunted Canyon, the North Pole Express, Murder Mystery, the Tube 'n Train (snow tubing and train ride) and Rafts 'n Rails (river rafting and train ride).
---